Category: Sports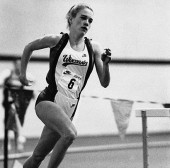 Suzy Favor Hamilton
Suzy Favor Hamilton is a record-breaking runner, a three-time Olympic athlete, and a vocal advocate for mental health.
Bonnie Blair
Bonnie Blair is a world record-holding speed skater, a six-time Olympic medalist and the most decorated woman in Winter Olympic history.
Carie Graves
Carie Graves was a three-time Olympian and a medal winner for the U.S. women's rowing team.