THEIR STORIES. OUR LEGACY.

This Wisconsin poet was the first woman to win
the Pulitzer Prize for Drama.
Learn more about
ZONA GALE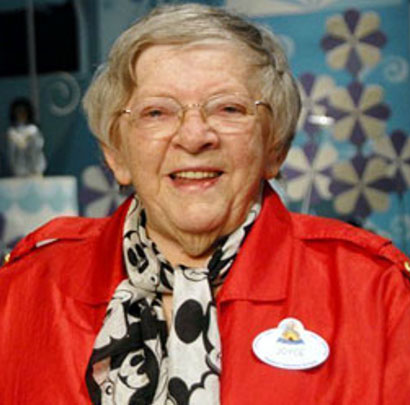 Joyce
Carlson
1923-2008
City: Racine
County: Racine
Joyce Carlson was a Disney artist known for her work on the film LADY AND THE TRAMP and on the "It's a Small World" theme park attraction.
Joyce Carlson, who was born in Racine, moved with her parents to California in 1938. In 1944, she began working in the traffic department of Walt Disney Studios, where she delivered — in addition to mail — art supplies to the animators. Several months into the job, she submitted a portfolio of sketches to her employers and was hired as an artist in the ink and paint department. After starting out animating training films for the Army, she worked for the next 16 years as an "inker" on such films as Cinderella, Peter Pan, and Sleeping Beauty.
Carlson became the lead ink artist for the 1955 film Lady and the Tramp. She also worked on the original model and designed many of the singing dolls for the "It's a Small World" attraction, which debuted at the New York World's Fair in 1964 and went on to be installed in every Disneyland theme park as well as in Walt Disney World. Carlson was the first woman to reach the 50-year employment milestone at the Walt Disney Company. Upon her official retirement in 2000, she was named a Disney Legend in recognition of her important contributions to the company over the years.

1951-now
,
Alphabetical
,
Arts
,
Racine
,
designer

LEARN MORE
McLellan, Dennis. "Artist behind 'It's a Small World.'" Los Angeles Times, January 5, 2008. http://articles.latimes.com/2008/jan/05/local/me-carlson5.
"Joyce Carlson, Legendary Disney Imagineer, Designer and Model Maker for More than 56 Years, Dies at Age 84." LaughingPlace.com, January 3, 2008. http://www.laughingplace.com/News-ID10028550.asp.