THEIR STORIES. OUR LEGACY.

She was the first Native American woman
from Wisconsin to run for U.S. Congress.
Learn more about
ADA DEER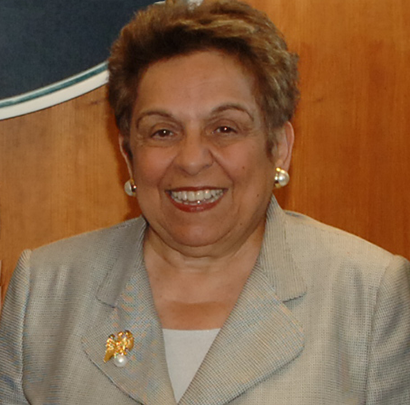 Donna
Shalala
1941-present
City: Madison
County: Dane
Donna Shalala was the first woman to head a Big Ten university and the longest-serving secretary of the U.S. Department of Health and Human Services.
Donna Shalala was born in Ohio and studied history at Western College for Women. She worked in Iran from 1962 to 1964 as one of the first U.S. Peace Corps volunteers, and then earned a Ph.D. in public affairs from Syracuse University in 1970. After teaching at Bernard M. Baruch College and Columbia University, she served in the U.S. Department of Housing and Urban Development under President Jimmy Carter, from 1977 to 1980.
After serving as president of Hunter College (part of the City University of New York), Shalala became chancellor of UW-Madison in 1988. She was the first woman to lead a Big Ten Conference school, and only the second woman in the country to head a major research university. She served as chancellor until 1993, when President Bill Clinton appointed her as secretary of the U.S. Department of Health and Human Services (HHS). She held that position for eight years, becoming the longest-serving HHS secretary in history up to that time. She became president of the University of Miami in 2001 and led the school for 14 years. In 2015, the Clinton Foundation, an international charitable organization started by the former president's family, invited Shalala to be its chief executive officer. Shalala served in that role until March 2017.
In November 2018, Donna Shalala was elected to the U.S. House of Representatives on behalf of Florida's 27th Congressional District.

1951-now
,
Alphabetical
,
Education
,
Government & Politics
,
Health
,
Philanthropy
,
CEO
,
Dane
,
UW
,
chancellor
,
federal government
,
professor

LEARN MORE
"The Kathleen Dunn Show." Wisconsin Public Radio, October 11, 2010. http://www.wpr.org/shows/kathleen-dunn-show-show-10112010-1.
"Chancellors and Presidents of the University of Wisconsin-Madison." University of Wisconsin-Madison. https://www.library.wisc.edu/archives/exhibits/campus-history-projects/chancellors-and-presidents-of-the-university-of-wisconsin-madison/.
"President Donna E. Shalala's Biography." University of Miami. https://president.miami.edu/history/donna-e-shalala/index.html.
Photographs, interviews, and speeches of Donna Shalala from University of Wisconsin Digital Collections.