THEIR STORIES. OUR LEGACY.

She was one of the first scholars to bring attention
to the writing of African American women authors.
Learn more about
NELLIE MCKAY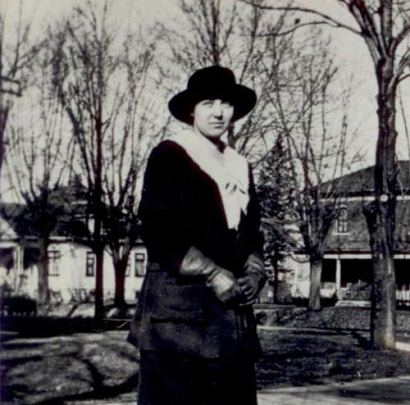 Maud
Neprud
1892–1981
City: Coon Valley, Madison, La Crosse, Milwaukee
County: Vernon, Dane, La Crosse, Milwaukee
Maud Neprud Otjen was the first woman in Wisconsin to be a county superintendent of schools and encouraged women to be involved in civic life.
Maud Neprud was born in Coon Valley, Wisconsin in 1892. She attended La Crosse High School and Normal School and then the University of Wisconsin. Her interest in politics began as a student; she led the executive committee of the Wisconsin Student Worker's Union and was the treasurer of the University of Wisconsin Prohibition League. After graduating with a B.A. in 1914, she moved back to La Crosse to teach high school history and civics in the area.
In 1917, women in Wisconsin did not yet have full suffrage (voting rights), but they were allowed to vote in school-related elections. Neprud ran for superintendent of schools in Vernon County and got many women to vote for her. She was elected, becoming the first woman elected to public office in Vernon County and the first woman in Wisconsin to be a county superintendent of schools She served a two-year term and was not re-elected, but that was not the end of her political career.
In 1919, Governor Emanuel Philipp appointed Maud Neprud to the State Board of Control, which was in charge of state institutions such as prisons, "mental hospitals," schools for the blind and deaf, and homes for "juvenile delinquents"; she was the first woman to hold that position, and she was reappointed in 1921 by the next governor, John Blaine. Neprud tried to use her position to improve how youth in trouble and people with disabilities were treated in Wisconsin.
In 1921, Maud Neprud married Christian Otjen and took his last name. The couple moved to Milwaukee in 1923, and Maud resigned from the board of control but became a vocal advocate for women's rights. She gave many speeches encouraging women to get involved in civic life. In 1924, she became the president of the Milwaukee chapter of the League of Women Voters, and two years later she was president of the league for the entire state. She was very involved in the Wisconsin Republican Party. In 1942, during World War II, she was appointed as a staff member on the Wisconsin Council of Defense.
Maud Neprud Otjen died in 1981.

1901-1950
,
Alphabetical
,
Education
,
Government & Politics
,
Dane
,
La Crosse
,
Milwaukee
,
Vernon
,
first
,
suffrage

LEARN MORE
"Maud Neprud Winner of Vernon Position." La Crosse Tribune and Leader Press, April 5, 1917, p. 5.
"Mrs. Otjen Earns $300 Monthly from State Council of Defense." Wisconsin State Journal, November 22, 1942, p. 1.
Parrott, Kristen. "Vernon County Museum Notes." La Crosse Tribune, March 11, 2015. https://lacrossetribune.com/print-specific/columns/vernon-county-museum-notes/article_50bb10ec-99e7-50f6-972d-59dcf603c783.html
"Says Wisconsin Behind Time in Care Juveniles." Manitowoc Herald News, April 28, 1921, p. 12.
Image courtesy of Vernon County Historical Society.